Podcast: Play in new window | Download
If you are thinking about marketing your book, then understanding how to reach your audience is incredibly important.
Today, I talk with bestselling co-author of the Emotion and Setting Thesaurus, Angela Ackerman. Angela shares tips on how they have attracted readers to their website – writershelpingwriters.net – as well as their bestselling Thesaurus books. You can connect with Angela and learn more tips from her on Twitter or Facebook.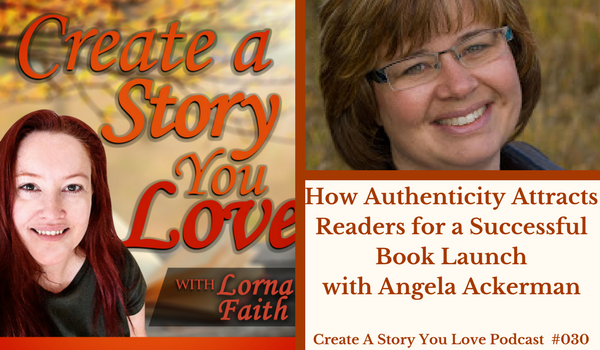 In the Intro, I mention how I've struggled and am learning to reach my daily word count goals during NaNoWriMo. Something that's really helped keep me motivated is reading, writing books and finding other helpful resources for writers like:
Angela Ackerman is the co-author of the bestselling Emotion and Setting Thesaurus. Angela and Becca blog together at writershelpingwriters.com and have started the popular membership website www.onestopforwriters.com – where writers can find all the Thesaurus books in one website.
Here are highlights of the Interview with Angela…
Angela shares how Becca and her met in an online critique group ten years ago and how their blog and business grew from there.
Angela mentions that what they did when they first started their blog, was to encourage comments, to which they would reply… encouraging authentic connection and building relationships.
Angela mentions going to blogs and finding authors on Facebook or Twitter who are writing similar books as you  are and begin to connect. Begin building a relationship with people who will become your reading base.
She encourages fiction writers to understand who your audience is. Ask yourself, what are your readers looking for? An author who writes romance that is fantasy based is going to have a different reading audience than a contemporary romance author.
Find out what makes your book stand out- what makes it different than other books in your genre?
Example: Indie Author Steena Holmes writes books on matters of the heart and most of her books have to do with parents losing their children. She has built up a readership about issues that are important to mothers.
Angela gives tips on how to be organized as an Indie author and plan ahead for your cover design, your editing and your book launch so that it's all ready to go for you deadline.
There's something about your book that's special. Figure out what that is. @AngelaAckerman
Click To Tweet
Here's some links to blogposts and other resources that Angela mentions in the interview:
A Free PDF of the steps they took for their successful book launch of the Rural and Setting Thesaurus
An article by Angela on how to find influencers to help promote your book
An article by Angela on How Authors can Find their Ideal Audience
How to find Data on books similar to what you're writing in the 'also boughts' on Amazon by using Yasiv
Angela and Becca's routine for a book launch:
1.Sit down and figure out what they want the theme to be – something that will resonate with the book your launching. And something that will attract readers on that topic.
2.Choose your idea and then plan what you need to put in place to carry out your plan.
3.A month or so in advance, reach out to writers and bloggers and ask for help. Make it super simple for people to help. Create a form for people to sign up if they're interested in finding out more about their launch(find free forms in Google docs).
4.Once you have people's emails, then break things down and ask what people would like to help with. Example:
5.Create a visual campaign that's easy and fun. Also that's available on different social networks. Offer people many ways they can participate.
6.Categorize what people want to help with: Instagram; blogging; Facebook, etc.
For more specific details on their book launch, get your FREE PDF here: writershelpingwriters.net/writing-tools/
Angela encourages writers who are doing their first book launch to…
Breathe and focus on the things you have control over, not on what you don't. @AngelaAckerman
Click To Tweet
First, take a deep breath and focus on the things you have control over… not on the things you don't. You do have control over creating an event that will attract people and on making it simple for people to join.
Educate yourself. Talk to authors who have done it – do searches on different authors and look at advertising.
Do something new that increases your chances that your book will be noticed.
Asking people for help – gather a group of people to help you – is one of the best things you can do.
Don't focus on book sales. Focus on how you can position your event and your book so more people will discover it.
Most of all make your book launch, captivating and creative. Make it fun, easy and entertaining for people to join.
What are some of your tips and creative ideas for creating a successful book launch? Please add your thoughts in the comments below 🙂