Podcast: Play in new window | Download
If you've ever thought about writing down your own memories or some part of your own tale – and don't understand a simple way to do that – you'll find this interview helpful.
In today's interview, Marion Roach Smith talks about the power of memoir and how we can all use it to understand ourselves better and to become better writers.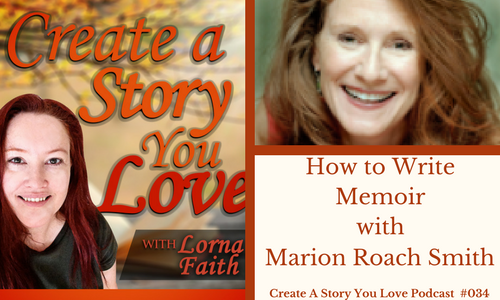 In the update, I talk about some books I've found helpful.  The Memoir Project: A Thoroughly Non-Standardized Text for Writing & Life by Marion Roach Smith, is a very useful and practical book for anyone who wants to learn to write their own story. Also, during the holidays I started reading Impactivity: How to Shift Your Productivity into Lasting Impact by Tracy Higley and this book really helped me sketch out a strategy for the goals I have and to prioritize habits and routines.
Interview Summary…
Marion Roach Smith is the author of 4 books. She has written for many major publications, including The New York Times, Good HouseKeeping, Martha Stuart Living, Vogue and many more. She been teaching memoir writing for over a decade and her latest book is '

The Memoir Project: A Thoroughly Non-Standardized Text for Writing and Life.'
Marion began her career writing for the New York Times about the death of her mother from Alzheimers, which not many people had heard about back then. Because of the far reaching effects of the piece she wrote, she ended up being on the Today Show. It started a conversation about Alzheimers disease. Since that time, she's written more books – about forensic science and the history of red hair – as well as a bunch of pieces for mainstream media and she also blogs on a regular basis.
What is Memoir? Memoir is when you write about your own story – but instead of writing about your whole life, you are writing about a specific insight into a certain aspect of your expertise. Memoir is not autobiography where you are writing about your whole life. Most of us are not famous enough, that readers would want to read about our whole life.
Since we each have a unique story – and many stories within our big story – writing memoir is great for self-discovery and self-understanding. When you ask deep and insightful questions it will help dig deeper into the reasons behind why you're writing on a specific topic. Writing memoir – whether it's an essay, a blogpost or a longer form like a book – is a way to focus on a specific topic which gives insight into a universal theme for many readers.
I share a sappy, but heartfelt moment I had with our oldest son(who is now 22 years old), when he was six years old and off to his first birthday party. As he walked down the stairs to his friend's mom, I saw my son grow a little larger with each step – until he looked like he was full grown. That was a very touching moment for me as a mom – and Marion mentioned that this could be a piece that would have the universal theme of Embracing loss. And the argument for this book would be If as parents we do our job well, our children will leave us. 


The formula for a great Memoir piece is: your story is about X as illustrated by Y, to be told in a blogpost; personal essay; radio essay; or chapter of your book.

If you're writing a Memoir in a book form, think of it like a 3 Act Structure. For example, if I was going to write the book above, the First Act would be something about being at home as a mom and raising the kids. End of Act I, would have the scene of seeing my son growing taller which each step he took down the stairs. By the end of Act II, the ultimate scene would be as a mom, being okay with the idea that this is the definition of success. Then Act III, could be the kids come home and you celebrate their independence.
Just because something happened in your life doesn't make it interesting. It's important to know what to leave out. You as the author, shouldn't be centre stage. There should be some deeper consideration of your theme and argument. Each page you write should drive the story ahead.
Understand that when you're writing Memoir – it's your truth that matters. There will always be another version of the truth. Do your best not to mess with the intent of the exchange, even if you can't remember the actual words that were spoken. If your story has a bunch of cliche, it's a sign that you  need to dig deeper.
Write your story first, before you worry about the possible emotional upset to your family members. Remember you can't libel the dead, so you can write about them. But it's also important to remember readers aren't interested in reading a story about revenge. Also when you ask beta readers to read your story, to get someone who is not a family member to read your memoir.
You can use little pieces or your own memoir as you write fiction or nonfiction. Many times as we write books, bits or our lives are woven into the story. For example, my nonfiction book Write and Publish Your First Book, has little stories about how I finally got through fear to write and self-publish my first novel. That is memoir – pieces of personal narrative that illustrate a theme.


Find a theme that resonates with other people.

Just because something happened in your life, doesn't make it interesting. For example, if you write about your day by day account of your life with your cat vs. how animals can change your life – which you illustrate by your stories about you and your cat – that will resonate with readers.  Discern between what happened to you and what the book is really about.
Also, a good editor can help you step outside your story to know what stories to leave in the book and what needs to go. This is where doing a good job self-editing and then bringing your manuscript to an editor who understands and wants your success is critical.
Write your argument or theme on a piece of paper and then write down the stories you remember from your life, as they relate to that theme. This will help you get focussed as your write your Memoir.


Remember, writing is one of the best ways to improve your own life. Take 5 minutes right now and write a few more words of your story 😉
If you want to connect with Marion, you can find her and her newest projects and courses at www.MarionRoach.com and connect with her on Twitter @mroachsmith.