Podcast: Play in new window | Download
Do you want to learn how to write your book in 30 days or less? In this interview, Kevin Tumlinson shares that it took him two years to write his first book. Now it takes him 15 days to write a first draft… and he says anyone can learn to do it. Listen in, for Kevin's tips on how you can learn to write your book fast 😉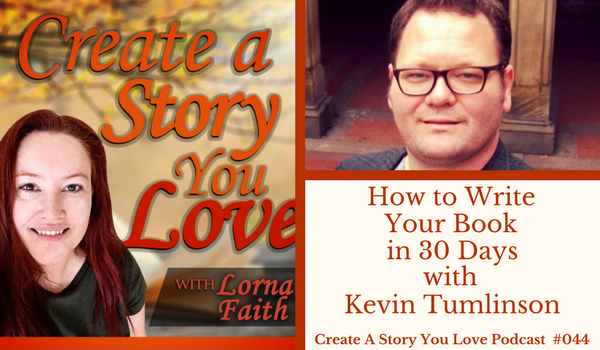 In the intro, I share books I've been reading lately.
I've been learning how to make changes to my daily schedule so writing becomes more productive as I've read through Kevin Tumlinson's book 30-Day Author: Develop a Daily Writing Habit and Write Your Book in 30 Days(or Less). Another book I've found useful to help learn better productivity habits as a creative is, Productivity for Creative People: How to Get Creative Work Done in an "Always On" World, by Mark McGuinness.
Interview Highlights: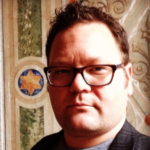 Kevin Tumlinson shares his story, of how he wrote his first book at 5 years old. He wrote for the local newspaper at 12 years old, which led naturally into a communications degree in college – which led to working in radio and TV. When he learned copywriting and started working for Ad
agencies, he says that helped him develop a work ethic.
Writing novels was something he had done on the side in fits and starts. In 2008 he learned more about self-publishing. It had taken him two years to write Book 1 in his Citadel series and he delayed a year before starting Book 2 – which took him another two years to write. He then realized that if he wanted to make writing fiction something he could do full-time, he was going to have to learn to write books faster.
It was at that moment, he decided it was time to treat his writing career like a business. So he spent a ton of time reading books and listening to podcasts about writing, self-publishing and marketing.
He started to practice writing daily. When he set out to write NaNoWriMo, his goal was to write 50,000 words in 30 days… instead he wrote 70,000 words in 15 days.
Kevin says he was surprised that this book was written so quickly, and that it needed less editing than
the first two books he spent years writing. He wondered if he could write another book in 30 days or less, so he tried again. He wrote another book and another. By the end of six weeks, he had four new books.
That step-by-step process, is what Kevin wrote about in his helpful nonfiction book, 30-Day Author: Develop A Daily Writing Habit and Write Your Book in 30 Days(or Less). 
Write everyday even if you only have 30 minutes and all you write is 10 words. @KevinTumlinson
Click To Tweet
Tips to remember when learning to write fast…
1.You need to make a commitment to write everyday. Anyone who can commit to write an hour or two a day can do this. Kevin says if your goal is to write full-time… if you really want that, you will write everyday.
2.While writing your first draft, you need to turn off your inner editor and just focus on writing.  When  you are writing, you only have one job, which is to write. Save the editing for later.
3.Treat all your writing projects as if they were assignments from paying clients. Work on your writing projects everyday, make your deadlines, and deliver a great project. Don't multi-task while writing your first draft. Don't do anything else but write. It deserves your undivided attention.
You can connect with Kevin on his website, listen to his Wordslinger Podcast or you can chat with him on Facebook or Twitter.
What are some writing productivity tips that you find helpful?  Please share your thoughts in the comments. It would be awesome to learn from each other 😉