Podcast: Play in new window | Download
Would you like to learn how to validate and understand what readers are looking for, with your book idea before you even write it? Online Marketing and Kindle expert Dave Chesson, shares his tips and strategies to help you tailor your book so that your book gets in front of the right readers who are hungry for more of your books.
In the intro, I share about a book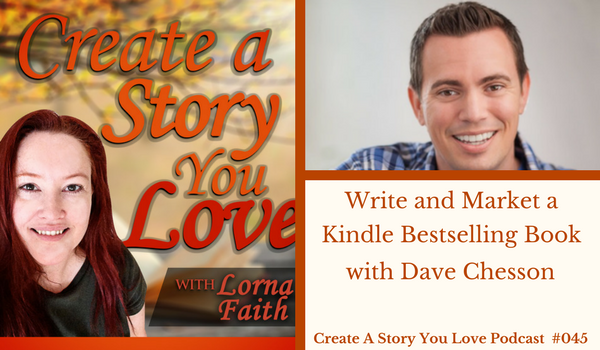 I found at our town's Library book sale(I love doing that with my youngest daughter… she loves books too). It's another nonfiction book for creatives to help heal and restore the artist-child to health. The book is titled, Vein of Gold: A Journey to Your Creative Heart and it's been perfect timing for me to read it right now and write my way through the exercises. If you want to learn tips and strategies on how you can double or triple your email list, start by reading this Free ebook by Nick Stephenson. My email list tripled in a little over 7 months after I took his online course last year.  And if you want to learn ninja tips and keywords on how to make your book profitable on Amazon – learn more details here.
Interview Highlights: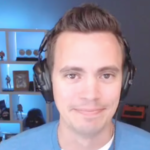 Dave Chesson, is a former Nuclear Engineer in the US Military, turned author and Expert Online Marketer.
He learned about Online Marketing, which was when Kindlepreneur.com was created because he wanted his art and writing to support his family. He began to write books dependent on market research and analysis because he knew there were a lot of writers like him who wanted to learn how to write books to reach more readers.
Dave discovered 2 ways that authors can validate their book idea before they even write it.
1.You can find out in which genre/sub-genre/category there is a hungry book reading market on Amazon and write a book for what they want. Or…
2.Write the book you want to write and then go outside of Amazon. Find that reader and drag them back to your book sales page.
The problem most authors face is that no one on Amazon is searching for your book.
So if you don't have the marketing skills or a giant platform or huge email list, then it's important to look at Amazon and ask where there is an existing market that is the closest thing to what you want to write?
Then you can write to that audience. That way you know your book will get in front of people who want to buy and read your book.
So what details do authors need to figure out so you can say "there is an existing market and Amazon will help me sell my book?"
3 Steps to validate and find your profitable book idea:
1.What do readers type into the search bar on Amazon? Use words that readers have already typed into the search bar on Amazon. Advanced tip: Dave recommends using the "Incognito Mode" in Google Chrome to do this. When you type in keywords in the Amazon search bar, it will start to 'auto-suggest' what other customers have used. This will give you raw data of what readers who are typing in those specific keywords are looking for in that type of book.
2.Make sure that people are actually spending money on these types of books. Many times we have a great idea – we type in the keywords in Amazon – and we see that none of those books are making money. It's possible that all the other books have bad titles or book covers, then you could make your book better.
3.Check the competition. Most likely you don't want to compete against J.K. Rawling. However if you look in the genre you want to write in. If you find out the books are doing well, and the competition isn't that great, that proves that there is a hungry market. Which is a beautiful place to be for a writer.
So if you have a good book; great cover and a great title, you have a greater chance of getting your book to the top in your subgenre/category so you can start benefitting from those sales.
When Amazon sees that your book is converting well, they will put your book in front of other readers.
"Knowing where you're going to write, niche and target is the Spark you need to potentially start the wildfire." Dave Chesson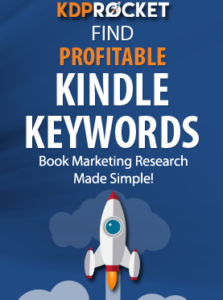 Dave explains why he created the KDP Rocket software.  It's a tool that unveils the cloud of mystery on Amazon and helps authors to know what the potential market is; the money they'll potentially make from this book and whether they need to alter their book marketing plans to make this a success.
Some Ninja Tips to get your book to rank better in Keyword results:
1.Choose carefully your 7 keywords /phrases on Amazon to make it obvious to the Amazon alogrithms of what you're book is about. Include some of these words ini your title or subtitle.
2.Put some of these keywords in your description. Amazon indexes the description and uses it in the algorithms. By doing this Amazon says "we should show this book anytime someone types these keywords into the search bar."
When you follow these steps, you are giving your book the best chance to be truly discovered.
Best piece of advice Dave offers to first-time writers…
If you are self-publishing, write what you love and write it to a hungry market. If you're in this for the long run, you want to do this for more than one book. As you write the first book, work on the other tactic, and build your author website and author email list.
One of the most important things an author can do, is to learn a traffic generating skill. In the online world it's one of the most important things we can be doing. Dave recommends that authors not choose 50 different things(Facebook, ads, ams, Pinterest, etc). Rather, do just one thing… and become the best at it. Then your skill will develop and when you launch that next book – and you've combined those 2 skills – you'll be making the money that most authors dream about.
To connect with Dave and see what he's up to, you can find him over at Kindlepreneur.com or you can chat with him on Facebook and Twitter.
Which one of these tips to market your book will you try this week?  Please share your thoughts and ideas in the comments ~ we can learn from each other 😉