Podcast: Play in new window | Download
If you are working a day job, have a family and are wondering how you can find any extra time to write, you'll find this interview with bestselling author Jim Heskett super helpful 😉
Jim shares how he squeezes in time to write while having a day job a wife and a toddler. Tune in, to learn his tips on how to be productive…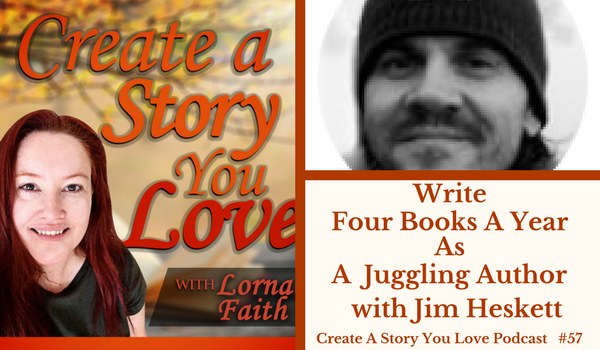 In the intro, I share what I've learned from an inspiring blogpost by Nina Amir this week on how to prepare yourself for opportunity. There are also some very useful books/resources that you might find helpful in your author journey: 1)Learn how to get unstuck and be a productive writer in Jim Heskett's book for writers, The Juggling Author: How to Write Four Books A Year While Balancing Family, Friends and a Full-Time Job. 2) A really helpful book to help you map out your novel, that I've been re-reading is The Plot Whisperer by Martha Alderson. 3)If you want to learn to write and finish your book, get your free ebook and 1st video lesson when you add your email at this link: www.thestorytellersroadmap.com.

Jim Heskett was born in the wilds of Oklahoma, raised by a pack of wolves with a station wagon and a membership card to the local public swimming pool. Just like the man in the John Denver song, he moved to Colorado in the summer of his 27th year, and never looked back. Aside from an extended break traveling the world, he hasn't let the Flatirons mountains out of his sight.
Interview Highlights:
Writing tips for the Pre-Production process:
2.When you're ready to write your first draft, take an idea from the notebook and come up with a synopsis.
3.Next, figure out who the good guy and bad guy is. And write details about those characters. That's a good jumpstart to brainstorming story ideas.
Secrets to Writing your First Draft :
1.Write fast and short. In this interview, Jim says that's 90% of the keys to his success. He encourages writers to leave out some of the dialogue and flowery descriptions in the first draft and just write the spine of the story.
2.Focus only on writing and finishing the first draft. Get it out and onto the blank page as fast as you can.
3.Set and keep self-imposed deadlines. Adding deadlines can really help you get things done in a good amount of time.
Beta Readers and Self-Editing Tips:
1.Consider writing a second and third draft before you send your manuscript to the editor, so that you can send her/him as clean a manuscript as possible.
2.Ask for Beta readers after you've finished the 2nd draft. Jim encourages writers to meet their Beta readers on Facebook or Goodreads and get to know them. But, careful that you give your manuscript to someone you trust.
3.Read through the constructive criticism from Beta readers and if more than one person points out the same thing, then take a look at it.
Helpful Tools and Resources:
1.Pro-Writing Aid and/or Grammarly to check for errors in your manuscript.
2.Stephen King's Book: On Writing.
3.Goal Tracker App called GoalStreaks to help you manage your to-do list.
Jim encourages writers to do something everyday to move your author career forward: writing, self-editing, writing emails to your mailing list, scheduling a promotion, etc. He then uses the GoalStreaks app to string days together to make a chain of 'X's for everyday that he checks off items on that list. As of this writing, Jim now has 4 1/2 years under his belt and is still going strong.
Tips on staying motivated to reach your goals…
Do you best, not to compare yourself with other writers. If you do, it's too easy to get discouraged and want to give up.
Instead compare yourself to where you came from.
Hold onto the feeling you had when you reached certain milestones:
The first time you had a review from someone you didn't know.
The first time you held a paperback of one of your books in your hands.
The first time someone paid good money for one of your books.
"Remembering important milestones will help keep you motivated and inspired to keep writing. Get that next book out. Take that next step. Do a little better today than you did yesterday. Most of all, keep writing." Jim Heskett
Connect with Jim at his fiction website or at his nonfiction website for writers here. You can also chat with Jim on Facebook or Twitter.
How do you find time to write, while juggling family, friends and a job? Please, do share your thoughts in the comments 🙂