Podcast: Play in new window | Download
In this conversation with bestselling indie/hybrid author Jacqueline Garlick, she shares how she has learned to write compelling characters using her Tick Tock Character-OZ-Ation technique based on the memorable characters in the story of The Wizard of Oz.
In this interview, she shares her journey as an indie author and how her first two books, in the  immensely popular young adult steampunk fantasy series The Illumination Paradox, got picked up by Amazon's imprint Skyscape.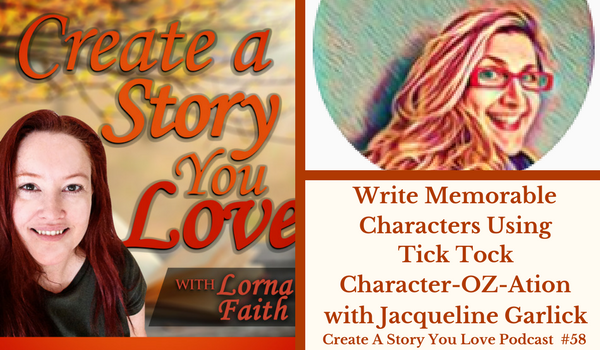 In the intro, I share helpful leadership and writing tips I've learned during December from Michelle Spiva's  Leader of One project. She shares on how to clarify, simplify, and how to lead yourself from frustration as you write and self-publish, to learning to commit to a daily writing practice. It's been super helpful!
I also share useful writing books I've been reading and rereading – like Jacqueline Garlick's nonfiction books for writers and Joanna Penn's The Successful Author Mindset.
Something NEW coming up…  If you want to join me and commit to Finish Your Book, I would love to have you join the new Facebook Group if your goal is to finish your book in the next couple of months. I'll also be doing a Facebook live video in the group on January 1st to help get us started. Click this link if you'd like to join 🙂

Jacqueline Garlick, talks about how she was addicted to writing even from a young age. She wrote stories and also did artwork. However, her well meaning parents wanted to her to focus on doing something that would lead to a secure job, instead of focussing on writing and art.
So, she got degrees she disliked and began teaching. Her aha moment of inspiration came when
she saw a High School friend's book in the Indigo bookstore. It lit a fire in Jacqueline to get back to writing again.
Jacqueline tells how she met Ellen Hopkins at her 1st writing conference and later was invited to a year mentorship program. This is where she learned a ton about fiction writing.
It was a few years later that she decided to write and self-publish a YA Fantasy series, that she was passionate about writing and it was this series – The Illumination Paradox – that was later picked up by Amazon's imprint Skyscape.
Jacqueline's tips on growing as an Indie Author:
1.Continue learning from others in the Indie Author community and from other writers and self-published authors in your chosen genre.
2.Be willing to try new ideas and experiment writing in different genres.
3.Self-publishing is about being an innovator and understanding consumers and why people buy. Begin to ask yourself why you buy books or other thing. What sparks your enthusiasm to buy. Make your own author marketing plan so that it's appealing and something that no one has seen before.
4.Write your first draft quickly. You can always fix it later.
On Developing Memorable Characters…
Jacqueline has written a series of nonfiction books to help writers. Her most recent book, Tick Tock Character-OZ-Ation: Character Development 101, is what we talked about in this interview:
1.Ask questions of your character. What is their wound? What in their past has made them what they are now?(both good and bad qualities). Why are they acting this way? What
is the root cause of why they're upset, etc.
2.Look for  Wizard of Oz type characters in most stories. Dorothy(character who viewed herself as not enough and longed to be loved and to believe she was enough on her own); Lion(character that doesn't have courage); Tin Man(character that doesn't have a heart); Scarecrow(character that doesn't have brains).
3 Pieces of advice for first-time writers:
Jacqueline shared her top 3 pieces of advice for writers who are just beginning the indie author journey.
1.You're only as good as your editor. If your book isn't edited well, you'll get attacked in reviews by 1 stars and even the very best story won't be read.
2.Decide what kind of writer you want to be. Know what stories you are passionate about writing and what you don't want to write.
3.If you begin to intentionally learn how to market your books it will be a massive help to your books selling well.
To connect with Jacqueline, visit her author website or chat with her on Facebook, Instagram or Twitter.