Have you gotten stuck as you write your book?
Is finishing your book looking impossible?
Maybe you've given up a long time ago because it's taken far longer than you thought to write your novel or nonfiction book.
If you can relate to any of the above, then I hope this blogpost will be helpful for you. 
It's tough to write a book. Even though I've written two novels, one short story and one nonfiction book, but I've noticed that each book comes with it's own unique set of challenges.
As I've written my novella in the last couple of months, many days have felt more like slogging my way through muddy trenches.
The good news is that I've learned some tips on how to get unstuck to write and finish your book along the way and I want to share with you what I've found helpful. Maybe you will find some of these ideas inspire and help you to finish writing your fiction or nonfiction book.
So if you want to learn some tips on how to get past those speed bumps that are standing in your way as you write your book, read on…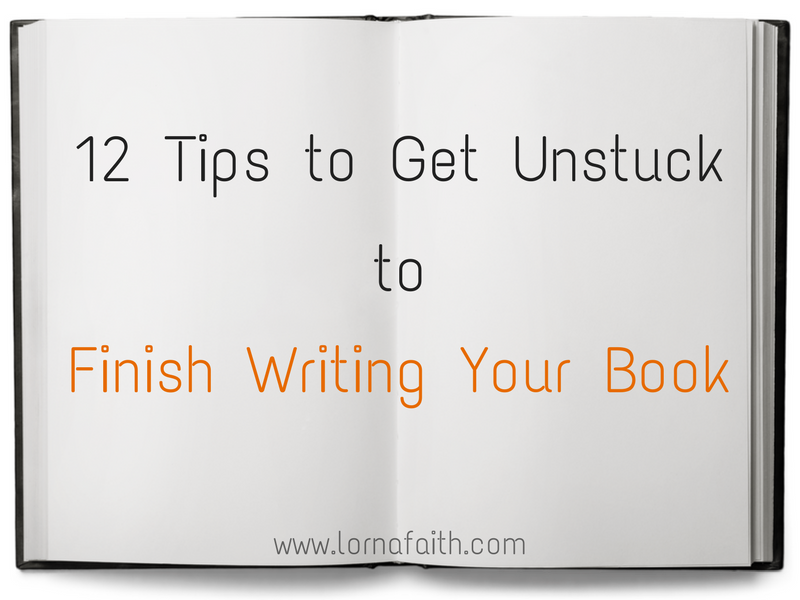 12 Tips to Get Unstuck to Finish Writing Your Book
More than half of writers who start writing a book, never finish.
So, is it so hard to write a book? Absolutely, yes! It is one of the toughest things you'll ever do. However, the good news is that finishing your book is not impossible.
Be encouraged to know that you're not alone. Many other writers are either writing a novel or a nonfiction book and they are either stuck somewhere in the story or something else happened so that they stopped writing their book.
If you're like me and have children, or maybe you have another job besides writing these things all take up time and you have to carve out an hour a day to write. Or maybe you've been procrastinating because you're unsure of the next steps in your book. Or maybe it's simply about cutting out the distractions, to help you get more words written every day.
Whatever has been holding you back, if writing your novel or nonfiction book is your goal, it's time to figure out how you're going to get it done 😉
I wanted to share with you today, what has really helped me move forward to write and finish my books in hopes that some of these tips will help you too.
12 Simple(but not always easy) Tips to Finish Writing Your Book
1.Know your Big why ~why you're writing this novel or nonfiction book. What about the story excites you? Is it the first book in a series and you can already see this series novels in the top #100 on Amazon?  What is the bigger picture you see about how this book will benefit those readers in your audience? How will this book help your author business? For me, it motivates and inspires me to write my novel or book when I have a clear idea of why I'm passionate to write it.
2.Have clearly defined and Simplified, doable goals.  Start by writing in short bursts. Write everyday. And begin by writing in short chunks of time. For example, write for as little as 10 to 15 minutes and then take a 5 minute break. If 25 minutes works better for you do that. But in these writing sprints set a timer that you will just write – and that you won't go online, check your phone or your email for that set amount of time;)
Most of us when we begin our writing projects we are excited. We want to write that story or get that nonfiction book written and published and so we write a lot of words every day. But, most writers by the time they hit the messy middle of the book, aren't writing ten to twenty pages a day. Instead of being disappointed you didn't reach your goals, make goals that are doable for you.
It's important to pace yourself. If all you have is fifteen minutes to write during your lunch time or after the kids are in bed, then that's awesome. You'd be surprised at how many words you can get in during a fifteen minute writing sprint.
3.Have at least a 'bare minimum' plan/outline for your book. If you're an outliner then you might already have written a detailed outline for your book ahead of time. If you're a pantser – someone who writes by the seat of their pants – then likely you have the main idea for your book in your head or you've written down a short summary of what the book is about. So, a bare minimum plan for your book is the main idea – your premise. For fiction this would be called a log-line – a one sentence summary of the protagonist, main conflict and setting. For nonfiction, the premise is the central argument you're making in your book.
Also a really great ninja tip is to keep your plan/beats/outline somewhere that you can carry it with you always. I put my outline on Evernote because I also have that app on my iPhone as well as on my desk top computer. So if I'm standing and waiting somewhere I can get more words written(I just did this last week when I was waiting in line at the registries office… I was able to get 400 words written in the 20 minutes I waited).
4.Surround yourself with anchors like family, friends, writers – who believe in you. My hubby and 4 kids are a huge encouragement to me. They listen to my panic, when I've missed my deadlines. They encourage me to write blogposts that will help other writers in some way. They let me talk out loud about my story ideas and often give me tips on plot lines or characters and how I could make them more interesting.
But, if you don't have family who supports you, you can still find friends or writers who will encourage you. I've found writer friends who inspire me in many Facebook groups(most are them from courses I've taken).
Type in the keyword writing in the top Facebook search bar, you should be able to find something there. Ask to join, and when you're accepted share what is going well and what you're struggling with ~ we all hit moments/days/weeks of struggling with the book we're writing. It's normal. It's a good thing to ask for help. We all need it.
5.Write your first draft as fast as you can. First drafts are supposed to be bad. So definitely don't expect perfection. Honestly, many times I've procrastinated because I've tried to make the sentences and story perfect(which it never is). This is what I've noticed: Most writers, write much faster, when they just let the story flow without going back trying to make everything right.
So give yourself permission to write a bad first draft. Remember if you don't get words onto the blank page, you won't have anything to work with later. So give yourself the freedom to turn off your internal editor and start writing and finishing your book just let your story flow freely.
6.Get crystal clear on your target reader. We'd all like to believe that the book we're writing is for everyone everywhere, but that's simply not true. Romance readers are looking for different novels, than Sci-Fi readers for example. This doesn't mean that a romance you write with a woman heroine, can't be enjoyed by male readers.
But, you should write to a target reader. For example, when I write my romance, I picture a middle aged woman reader. If you write YA, you might picture teenage readers, for example. Keep your target reader in mind as you write. It will really help you want to learn more about your reader and will focus your writing more than ever before. Doing this will help you move quicker to finishing your book.
7.Remove distractions. If you have a day job and a family to take care of, it means your time is limited. In order to reach your writing goals, it is more important than ever to figure out how to get rid of any extra time wasters that steal your precious writing time. If you watch 2 hours of T.V. a night for example, maybe you could use one of those hours for writing. Or if you spend an hour on Facebook(or other social media) a night, maybe you could cut that down to thirty minutes and spend the other thirty minutes writing. You'll likely regret it more in a few years if you waste precious time on social media than if you invested extra time writing.
8.If you feel stuck in your novel or book, skip to a scene/chapter that you're excited to write. I've done this with the romance I'm writing, and it works like a charm. This is one of the reasons I like to write my books using Scrivener. You can skip to the end and write that if you want to… it's amazing! By skipping to a chapter that I'm excited to write, I don't lose the desire and motivation to finish the book. Also, many times a solution will show up as you write the new scene that you're excited to write.
9.Reverse engineer the story beats or chapter outline. What does this mean? Start from the end of your novel and work backwards, writing down a couple of lines of each story beat. Make notes on each scene and ask questions like: what's the change of value; what is the cliffhanger(each scene needs one); what are the questions open in the readers mind(that need to be closed in the next couple of chapters), etc.
Once you get your story structure or beats nailed down, your story will be easier to write. I did this with my latest contemporary romance, using the romance beats Gwen Hayes writes about in her book, Romancing the Beats and it was super helpful! If you write nonfiction, you can also reverse engineer the different chapter ideas you've written to see what's missing.
10.Decide on a regular writing habit and establish a rhythm. This is hugely important. Writing everyday(not going longer than 2 days without writing if at all possible) and having that continuous practice will help you finish and self-publish books regularly.
When I've missed more than two days of writing, I've found that it takes me a week or more to establish that rhythm and regular habit again. Yes, writing is hard. But, it is much easier when you choose to write everyday, because then it becomes second nature to you. It becomes a daily rhythm that is as much of a habit as brushing your teeth in the morning.
11.Get daily inspiration like an artists date, blogposts, podcasts or books that inspire you to write. It is really helpful sometimes to take a break from writing on your manuscript. This not only inspires new creative ideas, taking a break also lets you return to your story with new perspective. I've gone on my morning walks or have gone on artist dates- to the craft store or other places where I feel inspired. By doing this, I get more ideas for my story which in turn gives me more passion to finish the story. Try it, you'll be amazed at how much a fresh perspective helps you finish writing your story.
12.Be accountable with yourself and with an accountability friend or group. About a month ago, I got started with an accountability group with other romance writers and it has been so helpful. I wrote about the benefits of accountability groups here. It has really spurred me on to learn to keep track of my writing goals and to reach the goals I've set because I know I'll need to 'report back' to the group of how my writing week went and if I made my goals.
It's super inspiring to also hear from other writers what they are learning and it's so helpful to learn from their tips. As you chat with other authors, you realize you're not alone and many other authors are struggling with similar things as you. I've found that this has also helped me to be more accountable to myself and the goals I set for myself. By being accountable to yourself and a group, you'll finish your book faster.
Writing and finishing a book is a continuous learning curve for every writer. There are always ways we can tweak our productivity and learn more about how to write better stories and finish them.
I hope you find some of the above tips useful to you as you write and finish your book!
What do you think will be the best thing about finally finishing your book?  Please share your thoughts in the comments below 😉