As I've gone over my writing and self-publishing goals for 2017 – and as I've looked back at what worked and what didn't in the past year – I've been learning some lessons on writing habits, routines and productivity.
I want to share with you what has held me back from being a productive writer and hopefully spare you some mistakes I've made. I've been learning to create new and better habits and I hope you find these ideas helpful to your own writing process.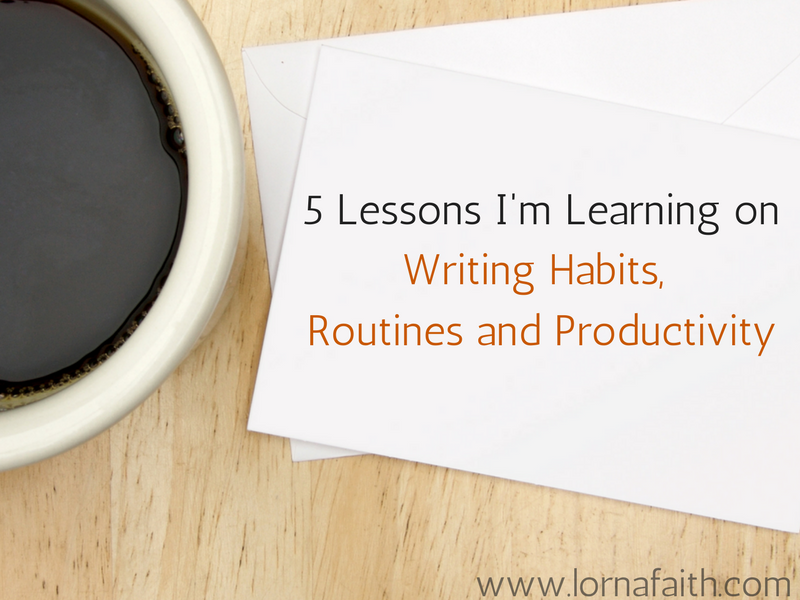 5 Lessons I'm Learning on Writing…
Even though writing a book may seem easy to some people – and it does have it's fun moments – I've discovered it's actually a ton of hard work.
It is such a wonderful job(most days I love writing), but it really is not a job for everyone.
I've been learning that there are some details I needed to have clear thinking on in order to help me be more productive.
Here's what I've been learning on writing habits, routines and productivity:
1.Start with your Why. What is your BIG reason that writing your book is so important to you? When you have a clear picture of the desire that drives you to write your daily word count, and to publish a specific number of books each year, then the chances of you acting on your goals and arriving at your destination increase dramatically.
I've noticed for myself, when something is truly important to me and I've really made a commitment to get it done, that I move my life around this main thing. I'll get up earlier, I sacrifice TV time and work while the family watches TV and I'll stop most of my procrastination.
Here's some more thoughts on your why: Your why will keep you focussed and on track when times are tough. It's the reason you're doing any of this anyway. (Examples of what might be your reason to write: provide for your family, personal freedom, make a dent in the universe, or maybe there are stories deep inside of you that you feel it's your job to tell, etc. ).
What is your why? Get clear on it and project where you want to be in 1 year or 5 years. Why do you want to be at that point? I've discovered that my why – which is freedom – is what gets me writing everyday 😉
2.Decide on Your Writing Habits. Even though every writer is different, if you want to get words consistently onto the blank page, it's important to develop some sort of habit or routine.
Habits are those things that you do without having to think about them. You just do them. Much like brushing your hair or brushing your teeth. More often than not, we do those things at the same time everyday, and we miss it if they don't get done.
I've been writing and blogging for five years, besides doing a ton of driving for our four children and the usual household stuff besides teaching piano and voice. Many times I've needed to write while sitting in the vehicle or especially lately, I've been writing when the family is watching T.V.  I've been working on getting up earlier lately, I find my creative flow easier in the early mornings, so 5am seems to work better.
I save time in the afternoons to work on my website, blog, podcast and social media connecting with other authors and growing my online platform. Lately I've been learning more from Brian Tracy's tips on goal setting, productivity and being more self-disciplined. It's been so helpful. And I've been reminded that I've done this before with all those early 5am mornings when I would get up and practice piano for two hours.
So, even though I haven't switched quite yet to being a full-time author entrepreneur, the goal is now closer than I could ever see it before. If you're goal is to make the switch from day job to full-time author, I encourage you to experiment with habits and routines that work for you.
Here's what I've found works good for me, and hopefully it's help you too:
I write fiction in the morning and then work on blogging, podcasting or marketing in the afternoons. Sometimes I'll catch up on stuff that isn't done for the day, after I've finished having supper with the fam.
I have a small chrome laptop that I use for writing when I'm driving for appointments and things. But when I'm at home I write from my iMac where I have Scrivener all ready to go, for my latest project(when I write from my Chrome laptop, I write in google docs and then it's easy to copy and paste what I've written into Scrivener). When I write I play music – usually rain and piano sounds – and then I can focus on the story.
I also use printable calendars that I write down everything that's on my schedule. I also schedule interviews, and writing times and deadlines into my google calendar. That's been helpful, because then I have a calendar for when I'm on the go too.
3.Understand your first draft is fun!: I know this sounds weird to write that down, but I'm finally starting to loosen up enough when I write the first draft, that it feels more like creativeplay. Which feels so good.
But, here's the thing. The only way I feel that freedom, is when I am secure in the fact that my first draft will not be seen by others. It's almost like a safety net in a way, from a high fall… only this fall is the flow of words.
Usually as writers, our words don't flow from our brain to our fingers in perfect order. But that's okay, because you can feel safe in the fact that no one will see your words until you're ready for them to.
Then after you've finished the first draft, then you can allow your inner editor to come in and begin cleaning up the draft.
4.Learn to trust emergence of your story. I learned this in this interview with bestselling thriller author JF Penn. Trust the story ideas that keep tumbling out of your mind and onto the page. Just go with it, and see where it takes you.
Sometimes you might feel, like you're not sure how you'll find more creative ideas. If you're wondering how you can start the flow of more ideas, here's some ideas that work for me.

I've started the habit of noticing details around me and writing them down.
I learned this first from The Artist's Way by Julia Cameron. She recommends going on a artist date about once a week. All this means is taking some time in your week to go somewhere that inspires you. It could be going for a walk, going to a museum… or I even go to the dollar store or a craft store and I feel like my creative well is filled up. Also while I'm meandering around, I will jot down stuff. For example, a few weeks ago when I was at the grocery story, I saw a blond haired, green eyed girl, who had that 'girl next door look.' When I heard the lilting way she spoke and the words she used, I thought this is much like my main character in my book. So I just wrote down some stuff in Evernote app on my phone, and then I can access the ideas quickly later when I get home.
You might be surprised how little memories of places or things you did long ago, resurface as you write and you include them in your story. I've noticed my memories of riding horses and living on the farm are coming back as I write my western romance. Also, as I write the contemporary romance, I've brought back memories of old victorian houses… which is part of the story. It's fun to discover different tidbits of your memories that pop up as you write.
Keep trusting your ideas and impulses wherever you are and write them down. And keep filling up your creative well… and get excited about your ideas again and come back and write your story.
5.As You Write More You'll Find Your Voice. I've discovered that the more I write – blogposts or books – that I uncover more of my true voice.
When I first started writing my first book, I was a little obsessive about this first novel. I had spent years writing and a few months editing it and had a really difficult time letting it go out into the world.
Most writers have self-doubt and worry about failing. Or maybe you're concerned about reader's expectations, like I was. I share more about how to deal with expectation's here. As I've talked with a few successful authors, it seems like those fears don't really stop. So what do we do?
Just put your head down again, and write the next book. And keep writing and don't stop. Learn from other authors, from editors who read through your manuscript and read craft books. Put into practice what you're learning, and you'll continue to grow as a writer.
Most of all, let writing be fun for you.
The best thing I've learned so far when it comes to writing stories, is to learn to relax and play in the sandbox of your imagination. Just write for the pure joy of telling your story.
It's such an amazing thing to be able to write stories that inspire, entertain or educate others and as writers it's what we get to do… everyday 😉
What have you learned on writing habits and productivity that aren't in this list? Please share your thoughts and ideas… it'd be so great to learn from each other.