Every writer needs to find inspiration from somewhere, in order to fill up their creative well, so they can write more words.
It doesn't matter how much you love writing and storytelling, there will always be moments or days when you need to inspire yourself.
If you've been writing NaNoWriMo, you might be at that point where you need some inspiration to keep the ideas coming.
Below you can find 5 ways that have helped to inspire my writing, and I hope you find it useful in your writing journey too…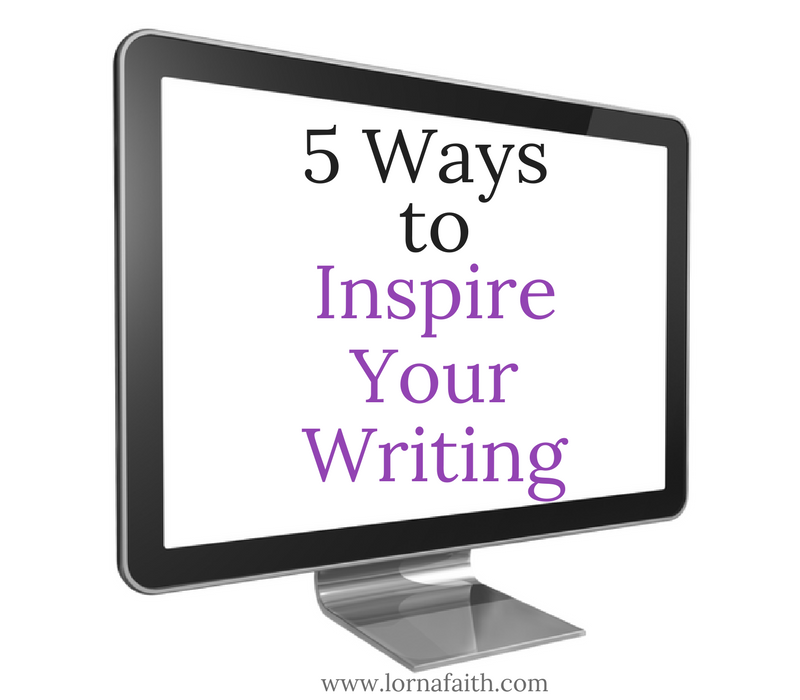 Some of my favorite ways to find writing inspiration…
Writers all need inspiration. Sometimes we discover exactly what will inspire our writing, from searching the internet or from other places we happen to pass by in our daily routine.
I have some favorite ways that I come back to time and time again for inspiration. Some of these are probably familiar to you, but I find it's always good to have reminders to come back to when you need to fan the flames of your creativity.
1. Books.
This is one of my most favorite places to inspire my writing. To inspire my fiction writing, I'll often re-read a novel that I love, to remind me of why I love to write. It also reminds my of why I adore stories. Re-reading favorite novels also is a great reminder of why fiction stirs my love of words, characters and overall story. This is one of my best ways to inspire my writing.
For nonfiction writing, I find that when I read through favorite nonfiction self-help and educational books, that it inspires me to write what I've learned too. For example, as I've read books by other writers talking about their writing process, it has inspired me as I've worked on my next nonfiction book, Finish Your Book(working title).  I've discovered that just by writing down my process and what I've learned about writing and finishing a book, has helped me to find the clarity I need. And the original inspiration came from reading many books written by other nonfiction authors. Try reading a couple of books by your favorite fiction or nonfiction authors, you might find just the inspiration you need.
2. Blogs.
There are so many amazing blogposts that have been written on many different topics. Since I'm a learner at heart, I love reading about new ideas or new adventures people have tried. Just reading their stories, often gives me a new perspective and is very inspiring. That inspiration, motivates me to want to write in my latest book project or to write in a blogpost.
3. Free Video Tutorials and PDF Downloads.
This is also one of my favourite ways to learn new and useful writing tips. Not only are you learning, but you're also able to get the teaching for FREE. I also love inspiring new writers.  For example, I like to give away stuff to help writers…
4. Writing Groups.
Writing groups or communities are awesome ways to connect with others to get the inspiration and motivation you need for your writing.  I've had great chats with many writers through Facebook groups that are connected with online courses. I've learned so much about writing and it's been so helpful to learn from other beginning or more established writers about their process and what they've learned along the way.
I love how writers are so willing to share what they've learned and what's worked or not worked. I love the writing the generosity and masterminds that are often created in these groups.
5. Movies.
Our family loves watching movies. Sometimes either the characters will say something profoundly meaningful or the photographic lens of the camera will shoot the setting in such a way that really inspires my creative muse. Also many of the themes found in the stories of movies are memorable. For instance the movie Star Wars with it's theme of hope, is inspiring. Or the Wonder Woman themes of self-sacrifice for others and that even an evil world is worth loving and saving, bring a boatload of inspiration. I could go on and on about movies, but I'll spare you. I'll only say this: if you haven't seen a movie lately that inspired you, you should plan to plug one into the DVD player this coming weekend!
I hope one or two of the above ways of finding inspiration are helpful to you. And if you're feeling stuck in your writing or writing feels a little like pulling teeth at this moment, seriously try one of the above tips. You might just be surprised at how your creative well starts to fill up and suddenly you feel like sitting down to write again!
What are some of your favorite ways that help inspire your writing?  Please do share your thoughts in the comments. We can learn from each other 😉