When we're in the middle of writing our story – still trying to find our rhythm – it's too easy to give up.
As we near the finish line of our work in progress, writing can feel as painful as a visit to the Dentist.
Sometimes we want to abandon our novel completely, but there's still a part of us that feels compelled to keep writing.
We have all these doubts and questions and we wonder if we should quit now while we're ahead. But sometimes in these moments, we remind ourselves that if we do quit, most likely we'll regret at some point later in life.
Writing fiction, isn't easy.
So why finish your novel at all?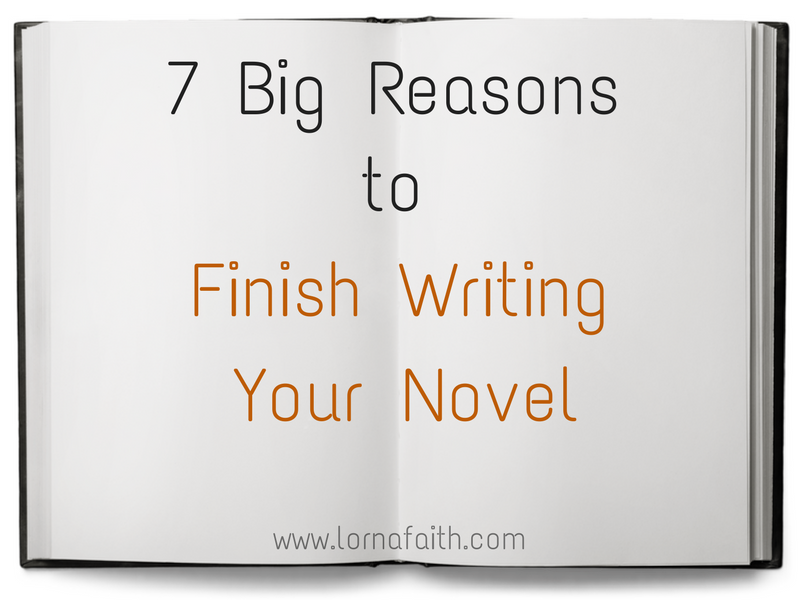 Why you should keep writing…
I've had many moments of frustration as I've been writing my current novel.
I've really struggled with my story. Some of the plot points in the story structure, didn't seem to ring true to the rest of the story I was telling.
It was incredibly frustrating and many times I wanted to give up altogether.
After talking about the story – out loud – with my husband(asking questions, focussing on theme and characters), many of the foggy parts of the story cleared up for me. It really helped a lot.
If you're struggling to finish your story, try something new like asking your characters deeper questions or maybe try what I did and ask your spouse, children or a friend if you can talk your story out loud to them. It worked wonders for me.
It's really difficult when you struggle for a few days or weeks with your story. You start to question whether you'll ever figure it out and you start to question whether you should finish writing your book at all.
I get it. That's where I was these past couple of weeks. That's why I wrote this list of reasons why it's a good idea to finish your book – I hope some of these ideas will inspire you too:
1. You Love to Write Fiction. For most of us, there are a bunch of activities that we have to do – like going to work; taking out the garbage – and there's not so many things we do that we choose to do for fun.
It's great to have a few things in your life, that you do just because you love it. If writing for you is one of those things you love to do, then keep writing… and finish your book. If writing your stories makes you happy and more alive, that's an amazing gift to embrace.
2. You will stretch and grow as a writer. To write a really good novel, there are many details to get good at. For instance, you need to be able to see the big story, break your story down into story structure and learn your characters arcs.
But, as you keep learning, you become a better writer. That really is an added benefit of being committed to finishing your novel.
3. You learn more about yourself as You write your novel. This was a surprise to me, as I wrote my first novel. I didn't realize I would have aha moments about myself, but I did.
Most likely you'll find as you think deeper about your story, that you'll find new ideas, emotions and beliefs. As you write, you'll see that the themes, characters and circumstances you explore in your novel, help you understand yourself and your own life in a new way. This can help you understand more of who you are and who you want to become.
4. You can reach people on a deep level with fiction. Ever since I started reading fiction in my childhood, I discovered that fiction short stories or novels had the power to reach me in a way a nonfiction book never would. I love that about storytelling.
There's been many novels whose characters and their lives have stuck with me for years. Maybe you've experienced that too? Fiction stories and their characters have the power to get deep into the reader's heart and mind and engage them in a really deep and lasting way.
5. You are empowered and given control as a self-published author. Since ebooks and print-on-demand have revolutionized the publishing industry, you don't have to wait for an agent or publisher any longer. You don't have to spend months or years trying and hoping to get published any more.
Instead you can give yourself permission to write the novel you love and publish your novel onto digital retail stores as soon as your book is finished.
Of course, you can choose to traditionally publish if you want, because being an indie author isn't for everyone. But the great thing is you have the option now.
You can be confident that you'll be able to get your novel into the hands of readers.
6. You will develop great time management, self-motivation, planning and goal-setting skills. It takes a little bit of planning to schedule in time to finish your novel. Whether you take 30 minutes writing while you're riding the bus home, or whether you go sit in your closet and write for an hour, it means you've chosen to put the time in to write your book. By continuing to write your novel until you type "the end" you prove to yourself that you can motivate yourself to keep going even when the going is tough.
You also use your planning skills when you organize your ideas into chapters and plan all your characters and where each of them fit into your story. You also learn goal-setting when you choose a date for when you want your book to be finished. Then all you do is figure out how many words you need to write each day to hit your target word count.
All these skills are great to develop. Many people spend a lifetime struggling to develop these skills. Writing a book, helps you jump in with both feet to improve all these skills as you write each day, and you can then take these skills into others areas of your life as well.
7. You might just change your life and step into work you've dreamed of doing. If you don't write your novel, you might regret it later in life. If you don't finish what you started, you'll never know what might have been. If you don't share your words with the world, you don't know if it would have touched someone, somewhere, or if it might have been a best selling book or perhaps your novel would have been start for you to step into your new career as a full-time writer.
Be brave and confident that you can do this. You will finish your book. Then ten or twenty years down the road you can look back with no regrets and see what you've created and achieved as a writer.
Today, choose to make time for your novel…. even if it's only 15 minutes. Go back through your outline, character sketches or your first few chapters and re-read what you've written. Begin to write from where you left off last time.
Make a commitment today. Finish writing your book 🙂
What are your reasons for finishing your novel? Please share your ideas. I'd love to hear your thoughts in the comments.