Do you struggle to write every day?
Resistance is something I battle with every single day. I used to let it beat me most of the time, but in the past few weeks I've been winning the battle more than I've been losing. To me that's super encouraging.
Do you come up against resistance or procrastination? Do you want to write consistently everyday, but see road blocks of distraction and fear standing in your way?
In today's post I share about how to begin getting those words onto the blank page and how to overcome obstacles that can get in the way of being the productive writer you want to be.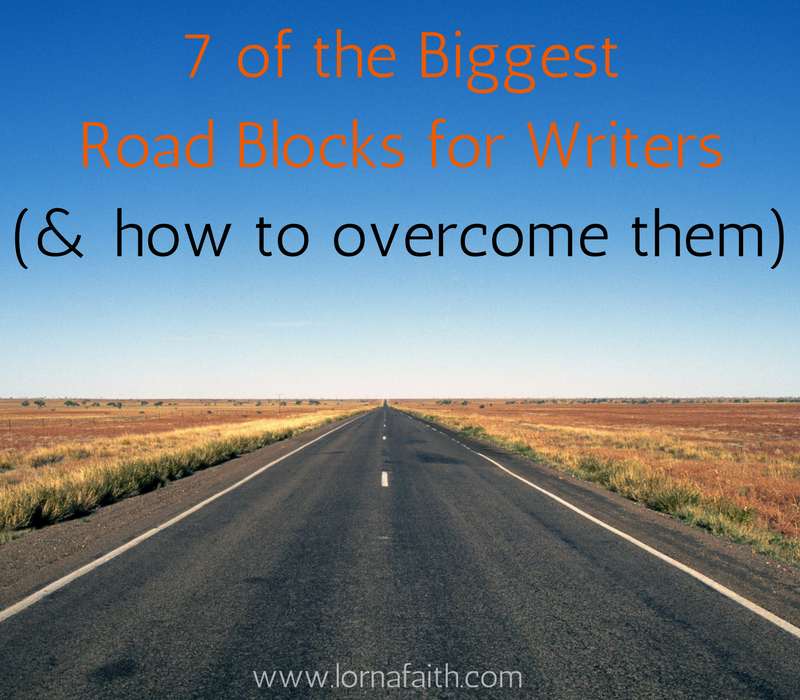 What Gets in Your Way and Stops You from Creating a Writing Habit?
As I've talked with writers just getting started and have also interviewed many bestselling writers, I've come to realize that writers everywhere have one major focus: to create a writing habit that takes them in a straight a line as possible towards their goals.
So the question becomes: How do you make writing a habit? How do you overcome what STOPS you from writing and put in place what STARTS and propels you toward you writing goals?
I've listed below 7 of the biggest road blocks that stop us from creating a writing habit:
1.Negative Self-Talk. This gloomy way of talking to ourselves is something many of us writers don't even notice until we take the time to listen to ourselves. This shows up in many forms with comments like: "I suck at writing," or "I just can't seem to do this," or "I'll do this later." I've become more aware of how I talk to myself in the past few weeks and all I can say is I really need to talk more positively to myself and encourage the child-artist inside. The negative self-talk can put a ton of doubts in our head that really defeats us… and stops us from writing. So how do we overcome this? Just listen to yourself. Become aware of the negative words you're telling yourself and then for every negative word say something positive that counters it. And when you start writing, put a timer on and don't stop writing (even when you really want to say "I'll do this later"), until the timer goes off. You can start small – like set the timer for 5 minutes to start. You'll start to be amazed by how much you can write in 5 minutes.
2.Feeling the urge to switch. As you are writing anything, more than likely you'll want to switch and do something else. Wash the dishes, check social media, check your email. Again try this: set a timer for 10 minutes and tell yourself that you won't switch to anything else until the timer is up. Write a paragraph or maybe two and you'll be surprised how you get in the flow. But just stay in focus. When you feel the urge to click to check your email, don't. Remind yourself, you have to stay and write or stare at the blank page until the timer goes. When the timer goes, then begin again.
3.The problem of distractions. Every writer has to learn how to handle distractions. At some point we've all given in to some form of distraction. The only way to really get rid of this road block, is to clear them away. If you have browser tabs open, close it. If you have your phone dinging notifications, turn it off. If  your desk is messy, clean up the clutter so you can focus. The only thing you need open in front of you is the program you are using to write your story. Start with focusing for only 5 minutes at the start and work your way up to 15 minutes. I've been using this count down timer I found online, and I set it for 10 or 12 minutes, and it really helps me stay focussed in that amount of time.
4.Dreaming of how easy writing will be. Writing is not easy. It's takes a lot of time, it takes focus and sometimes can be quite messy. That's not to say writing isn't rewarding… because it is. But, if you are dreaming that writing your book is super easy, that illusion will get in your way when you actually sit down to write. Why? Because in most cases your dream of writing your book quickly and easily, won't measure up to what your reality is. It is difficult and sometimes tough to get your thoughts onto the blank page, but writing is still meaningful and rewarding and something to be grateful for.
5.Distress or confusion on how to write your book. I really get this one. I was so completely stressed out when I started writing my first novel. I didn't know anything about story structure, I was never that great at language arts classes in school and I felt like I would fail as soon as I started. These reasons all scared me to bits. Besides that, all I had going for me, was an idea for a story. But, I decided I would begin anyway. So, I just started reading books and blogposts on the craft of writing. Then I discovered writing and self-publishing podcasts, which were so inspiring and helpful. Then I started taking a few online courses so I could get better at writing, blogging and learning how to market my books. It's difficult, when you are doing something for the first time and you don't know how. You do feel like quitting. You feel sorry for yourself, and wonder why you're even trying. That's normal. Go ahead, give yourself a few minutes to feel that way, then get back up and start looking on google for the answers to questions you have. There is so much information out there, that in all likelihood you'll find the solution to what you're having trouble understanding.
6.Not enough time to write. Each of us are juggling many different things during the day. We're all busy which makes it difficult to make the time to write each day. You might not have 1 hour to focus on writing, but I'm pretty sure you could find 10 minutes in your day to write a few words in your book or on your blog. Learn to be aware of what you use your time for in your day. If after your day job you spend an hour on social media, cut out some of that time. Or if you spend an hour watching T.V. at night, could you spend that time writing? If writing and getting your book published really matters to you, you'll find that extra 10 – 30 minutes a day to write. When you finally finish your book and put it out into the world, you'll be so happy you chose to dedicate that time to write every day!
7.Dealing with Perfectionism. Each of us wants our writing to be wonderful right from the get go. What often happens is we put so much pressure on ourselves that we nitpick our writing… and ourselves like crazy. What happens is that all these high expectations we place on our writing, actually stops us from being creative. It's important to choose to just write messy first drafts. It's important to just be okay with putting the words on the page, even though they seem terrible at first. Make it a habit not to go back and edit any of the words you've written, until you have finished your first draft. That's something that has really helped me to get more words onto the page in a shorter amount of time.
As you have read through the above list of road blocks to writing, you probably found at least one obstacle that resonates with you.
Read through the list again, and as you find one or more obstacles you personally face to getting your writing done everyday, ask yourself why are you writing? Go ahead, write down the reasons why you are writing your novel, your nonfiction book or your blog. Once you gain more clarity on your reasons why feel compelled to write, you'll see that your passion and motivation to move past resistance gets stronger too.
Recommendation: A awesome book that will help give you clarity as a writer and creative is a new release by bestselling author Jeff Goins, titled The Writer's Roadmap: 12 Steps to Make a Living Writing. You'll find useful tips and inspiration on how to focus your creative energy to get more stuff done as well as learning how to make money from your art. Get your FREE ebook here.
Make it a habit everyday to find the time to write so you can put more of your books into the world. Allow yourself to write a messy first draft, use a timer to help you focus and watch as little by little you finish writing your book!
What are some obstacles you face as you write? Are they different then the list above?  Please share your thoughts in the comments below, we can learn from each other 😉