I've been blogging, having fun doing interviews via Podcast and YouTube, for a couple of years now and it's been a big learning curve ~ but most of all it's been a lot of fun!
Since I've rarely asked for your opinion on this blog before, I thought what better way to start this New Year than to ask you how I could bring you the most value.
Which areas of mindset, writing, editing, self-publishing or marketing do you feel you are struggling the most with?
This survey is open until the closing date of January 11th at 11:59pm EST(I extended it a few days for people who had missed hearing about it).
These short multiple choice questions are aimed at people who have been interacting with me at the lornafaith.com or createastoryyoulove.com website, podcast or YouTube channel for at least 3 months.
To complete the survey click on the image below, or click this link to complete it online.
If you're part of the regular Create A Story You Love community, please take the short survey below to help me offer you more value and serve your needs better.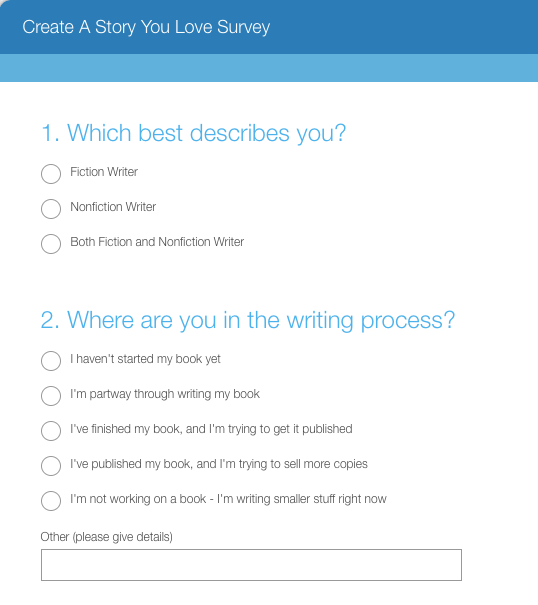 I'll be sharing the results of the survey on a blogpost on January 19, 2017… so stay tuned for that.
Thank you so much for helping me understand how I can improve the posts I write for this website as well as for your insight and ideas on what would be really helpful to you in a writing and self-publishing membership site, which I'm thinking about putting together at some point.
You're welcome to leave a comment below with any ideas on how I can improve or what you've been enjoying about the blogposts, podcasts or anything else 😉
Thanks so much!