I've been experimenting on how to create a great book cover using Canva.
I thought I'd walk you through some simple steps on what I've done to create a simple book cover, so you can do it too.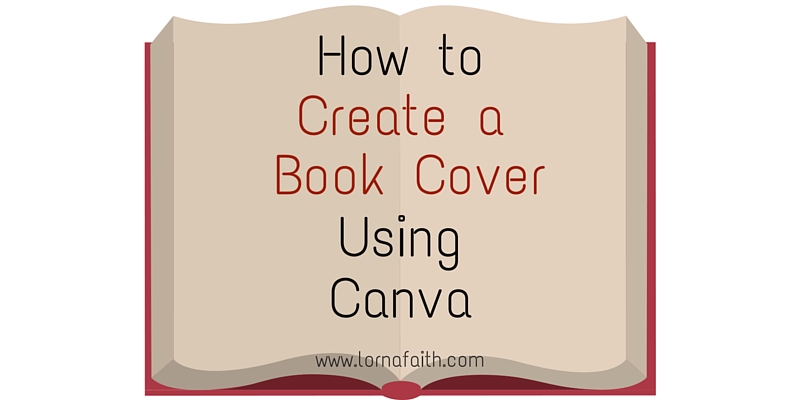 How to Make Your Own Book Cover Using Canva
As a self-published author one of the most difficult and most important things you'll do is choose a cover for your book.
Your book cover is your most powerful marketing tool because it will either attract potential readers or repel them. If you choose a great cover for your genre of book and draw in readers, then you've done well, but if you don't, then potential readers will just click away… a most likely not be back.
Personally, I like to use a professional book cover designer when I can, but there are many reasons you might want to make your own book cover:
Maybe you want more creative control
You want to try different cover ideas so you know what you want before hiring a designer
Maybe you're writing a series and you don't want to pay full price for each cover design
Or, you might be launching a small book – a short guide or ebook – and you don't want to invest too much money into the project.
I created the book cover for my fiction giveaway, A Most Unsuitable Husband. It was fairly simple to do, so I thought I'd show you what I did in this post.
It's super important that you consider a few things before you create your book cover:
There are a few guidelines for choosing pictures to have a great looking book cover. How good your book cover looks, will depend on what pictures or art you use and how well they fit together. One important aspect of a good book cover is to make sure it resonates with your target readers. For example, for this ebook cover, it is a Western Historical Romance, so usually there's horses/or a ranch in the background and a lady dressed in some type of old fashioned dress. That's why I chose the lady in the blue dress as well as the horses with the trees in the background.
Here's simple steps on how you can make your own book cover.
Step 1: Find a great photo.
This part of the process can take the longest, because it's your photo that will draw readers to your book. Of course, you'll want to find a photo that mirrors the theme of your story, character and plot.
You might be curious where to find photos. If you've taken some photos yourself, you can use that. Just double check that the resolution meets the required resolution before you publish your book on KDP(Amazon), CreateSpace or Smashwords. As far as photos go, the higher your resolution, the better your book cover image will look when it is printed.
Other websites to find royalty free photos:
At most websites you'll have to pay for the photos. You'll also need to double check what the licensing terms are for the photo. For example, some photos cost around $200 for up to 50,000 print copies. For my first two novels I used photos from bigstockphoto.com and there was no limit for print copies. Also I a lot less for the actual picture – somewhere around $50.
But when I created this book cover, I only paid $1 per photo. Here's the two photos I used that I found on Canva.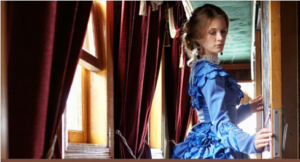 Step 2: Go to Canva.com and upload the photo you've found.(or you can find the photo you want once you're in Canva. It's easy you just use search terms. For example, search terms for the above photos: woman, historical dress, horses, ranch).
Create Your Account… it's free. The website takes you automatically to a 'beginner's challenge' – a tutorial on how to use it. If you want to go straight to designing your book cover, you'll end up at the Dashboard here:

You'll notice that there are a bunch of different sizes already prepared for whatever platform you're looking for. Click on the "More" button and scroll down until you find "Kindle Cover." Click on that one.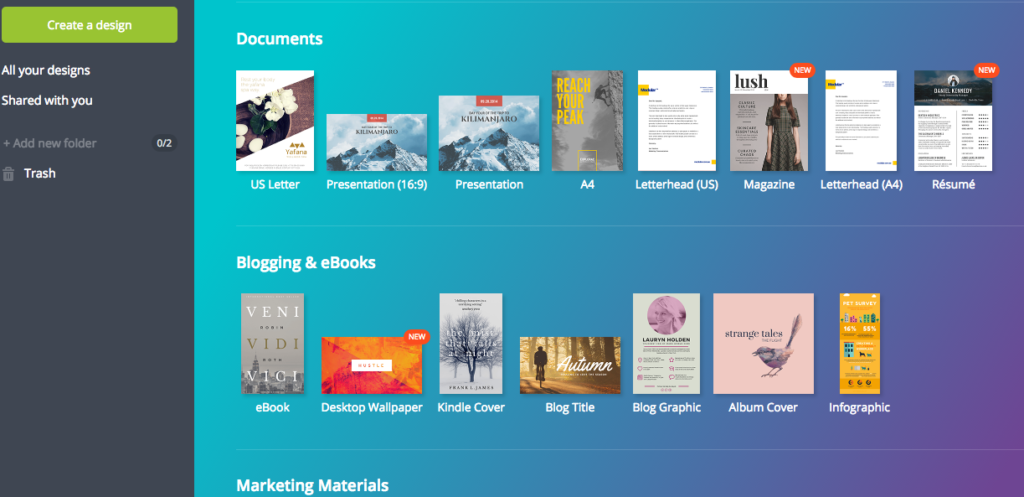 Step 3: Choose a Template already pre-made or Create Your Own.
Once you've chosen the Kindle Cover, you'll see a bunch of pre-made book cover templates on the left hand side of the page.  They've already been formatted with photos and fonts. You can choose one of those and just tweak the font or change the picture color, or you can create your own. Here's what you should see…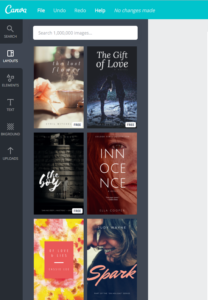 You can make your own book cover. It's so easy to do, that I wanted to show you how you can make your own in this tutorial.
Step 4: Upload Your Photo to Canva.com
Just click on "upload your own images" and you can grab your photos from your computer file.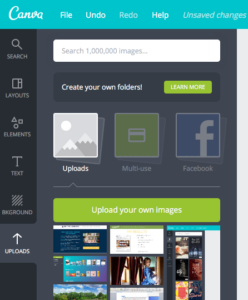 Step 5: Decide if you want your photo to cover the front cover or if you want to use a different layout for you book. You can see it in the picture below. I clicked on layout(top LH side of Canva screen) and used the layout with 3 boxes for this book cover(see it below on RH side).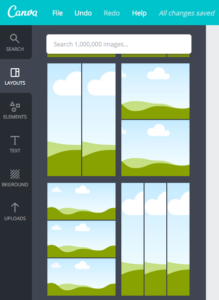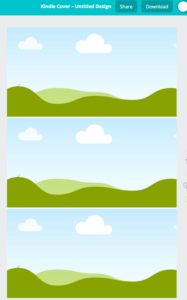 Step 6: Drag Your Photo(s) onto your workspace.
Now you can drag the photos you've chosen into the layout you've chosen. I decided to use 2 photos. I put the woman in the blue historical dress at the top and the horses on the ranch on the bottom of the layout. Then for the middle picture I clicked on "background" and chose a 'burgundy' color to fill in the white lines around the pictures. Then also from 'background' I chose a cream colored background to place in the middle box.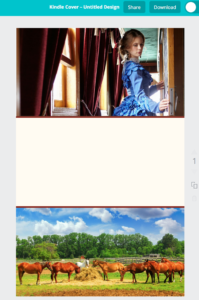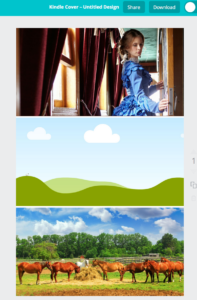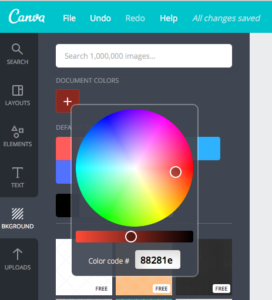 Step 7: Add Your Book Title and Author Name.
You'll need to add your book title and author name. On the far left hand side of the canva screen you'll see an icon that says "Text." Click on that.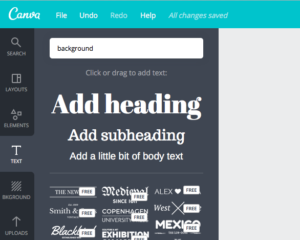 Then, a box will pop up above the photo you're designing. It should say "Add Text." Put your cursor in the text box and enter your title. If the text doesn't fit the box, you can stretch the box with your cursor. Or what I did to create my title below I clicked again on "add heading" for each new word I wanted to add to the title. I changed the  font to "Libre Baskerville" and chose a burgundy color and '48' font.
It's so simple to change font or color – just click on the 'number box' or on the 'color box' if you want to switch something.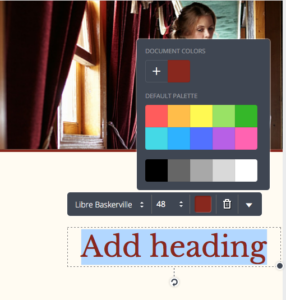 Then you can do the same for your author name.
Step 8: Download Your Book Cover.
Double check that you like the finished product. When you're ready to download the book cover just click on "download" on the upper right hand side of the screen. Then click what you want. I normally choose either "Image: high quality(PNG)" and click on that.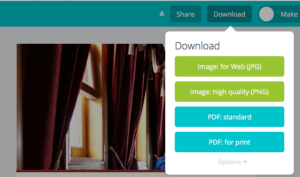 Canva will get busy converting your photo and downloading it to your computer.
Step 9: And Voila! Your new DIY Book Cover is finished 😉
You're book cover is done… and I'm sure you did a wonderful job!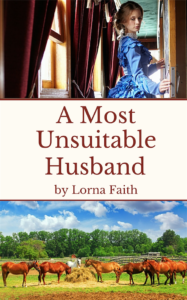 If you found this post helpful, please share it with someone who might also find it useful.
What are your tips for creating book covers using Canva? I'd love to hear your thoughts – we can learn from each others ideas 🙂
*Photos created with Canva.