Now is an amazing time to start your author website.
This Black Friday discount (scroll down to read more about that) is ONLY available to my readers from Friday(Nov. 24, 2017) through Monday(Nov. 27, 2017).
However, it's also an incredible time to start your author blog because websites are viewed by an audience of over 400 million people each month –this a huge opportunity to get your story or message out into the world.
Isn't that incredible? That's an amazing opportunity to reach more people with your writing and your books. Question is: are you taking advantage of it? 
Right now it's never been easier to connect with an audience and reach more readers… but are you starting the conversation?
We all have something to say… especially writers. Blogs not only make that possible, they make it easy. It's time to get started and figure out what it takes to reach more readers and get your stories spread to a wider audience.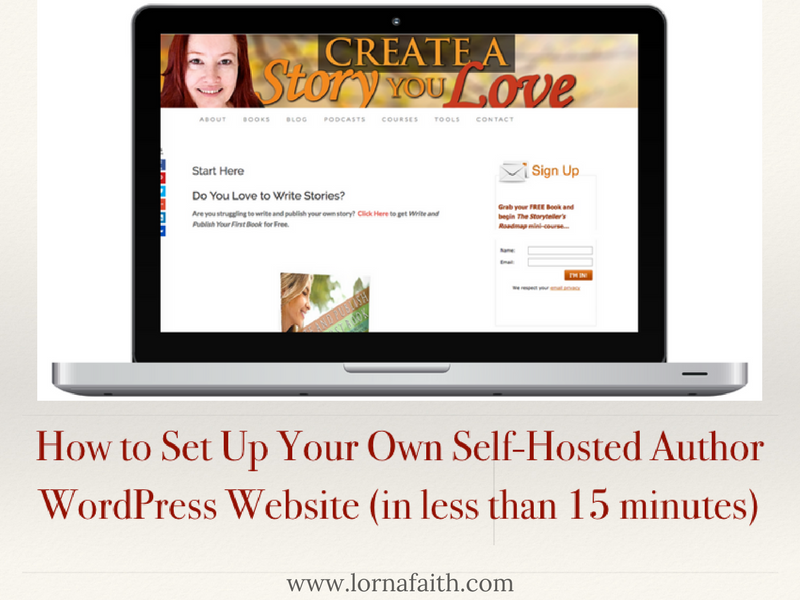 An opportunity you don't want to miss…
What happens if you don't do this? You stay invisible and your message doesn't reach your readers.
Personally, for years I dreamed of having a website I could have control over. But when I first started writing and blogging, I got overwhelmed by 'technical – knowhow'(or in my case, the lack thereof;). So I froze up, procrastinated and eventually I gave up.
But I've finally found a simple way to setup a self-hosted blog that sounds techy, but is in fact super easy to do. In this video tutorial, I'm going to show you the step-by-step process on how you can set up your first author website too.
Setup your self-hosted author website(video tutorial)
In this 30 minute video I share what I wish someone would have told me years ago.  It would have seriously shortened the time I wasted trying first one thing and then the other…  oy the pain and struggle ;(
In this tutorial, I share my affiliate link to Bluehost, a company I highly recommend that makes the whole process very easy. If you click the link I get a commission at no extra cost to you. Please know I only recommend products I use and love, and offering affiliate links is one way I am able to keep this blog going.
My hope, is that this video tutorial helps shorten the time it takes for you to setup your author website and reach readers for your books.
In this Video Tutorial I share simple steps on how to:
get a domain name and hosting plan
install WordPress
choose and install a WordPress theme and how to customize your theme so you get the colours, text and menu items you want
add a page on your new website to feature your books
add plugin(s) to: protect your website; contact form for readers to message you; add SumoMe for social sharing; add Author WIP progress bar to let readers know how far along you are in writing your next book, etc.
setup your first MailChimp email account(free for the first 2000 subscribers to your email list) and add that signup page to your WordPress website.
That's it; now your author website is setup. 
Now you can begin blogging and sharing your books. This is where the fun, and good hard work of writing begins.
Black Friday Discount is only available from Friday, November 24, 2017 through to Monday, November 27th, 2017.

(

Discount rate is for as low as $2.65/month, with add-ons up to 60% off

).
If you're ready to jump in, click the image below to get started with Bluehost.
For more on how to get started, check out: 9 Simple Steps to Start a Self-Hosted WordPress Website in Less Than 15 Minutes. 
If you're ready to setup your author website with BlueHost, you can use my affiliate link to get a little extra off the normal price. They're a top recommended host by WordPress and have wonderful customer service. I've worked with them for a couple of years already and I've been very happy with their service.
If you want to share this blogpost and video tutorial with someone, please do. Feel free to link to this post or embed the video on your website. You can find the screencast on YouTube.
Do you have your own self-hosted website? If you do, what do you love about it? If not, what questions do you have? Please do share your thoughts in the comments below ?